Lake Cook Reporting – a Chicago-area firm.
Expert, certified court reporting and legal videography services.

---
---
Court reporting , video conferencing, and deposition technology solutions in Chicago city and suburbs.

---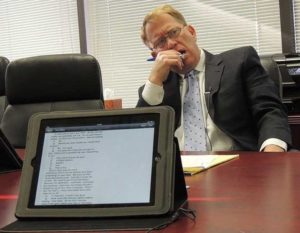 ---
Chicago area coverage map of our reporters.
We work with hundreds of Chicago-area court reporters and legal videographers, including 30 stenographers who work with us once a month or more.
With our extensive experience and expertise, we've paved the way for innovation and technology in the court reporting field for over two decades while maintaining a client-first approach and personalized touch for each and every case.
At Lake Cook Reporting, expect the same high range of court reporter services you'd get at a big agency from our local family-owned business and experienced court reporters.
---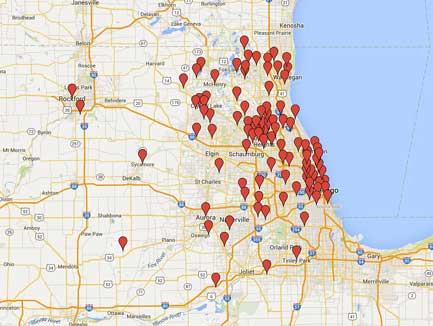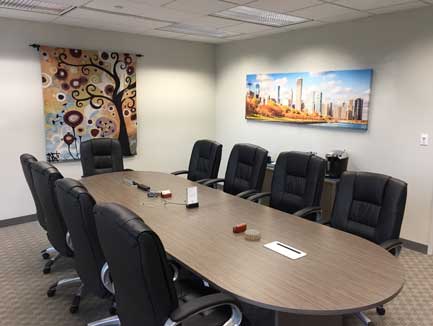 ---
Court reporting and legal videography services available in our offices, your office, downtown Chicago, the suburbs, or anywhere you need for depositions, arbitrations, trials, meetings, and more.
---
---
---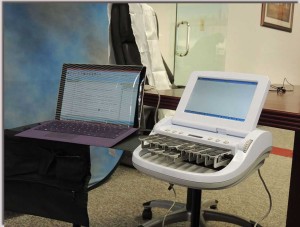 Court reporter services available in our office or around the Chicago area.
Court reporters for Chicago and the suburbs, including all area courthouses such as Waukegan, Rolling Meadows, Skokie, downtown at the Daley Center, and more.
Expert court reporter services available for trials, depositions or any other legal transcription.
Realtime reporting, live video/text streaming, and expedited transcript options available.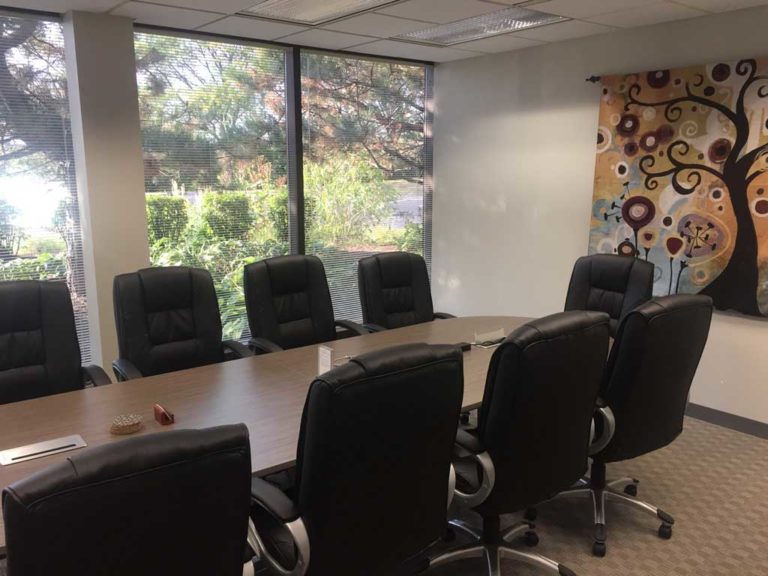 Deposition suites provided to our clients for free when using our court reporter.
Meeting rooms available to rent by the hour or day.
Technologically-equipped with high definition televisions, WiFi, video conferencing, and more.
Breakout meeting rooms available for private discussions before/during/after depositions.
High-quality conference speakerphones offered in every conference room at no extra charge.
---
---
Lake Cook Reporting's headquarters north of Chicago in Bannockburn, IL.

Bannockburn, Illinois is conveniently located on Chicago's North Shore along Interstate 94 and Half Day Road. Bannockburn shares borders with Deerfield, Lake Forest, Highland Park, and Lincolnshire.
Our north suburban location features four conference rooms, perfect for depositions using our court reporters. Room rentals for meetings also available.
---
Did You Know?
We'll pick you up from O'Hare International Airport and take you to a deposition at our office! Just request airport pickup when scheduling a deposition at our north suburban office and we'll do the rest.
---
View North Suburban Bannockburn, IL Deposition Suites
---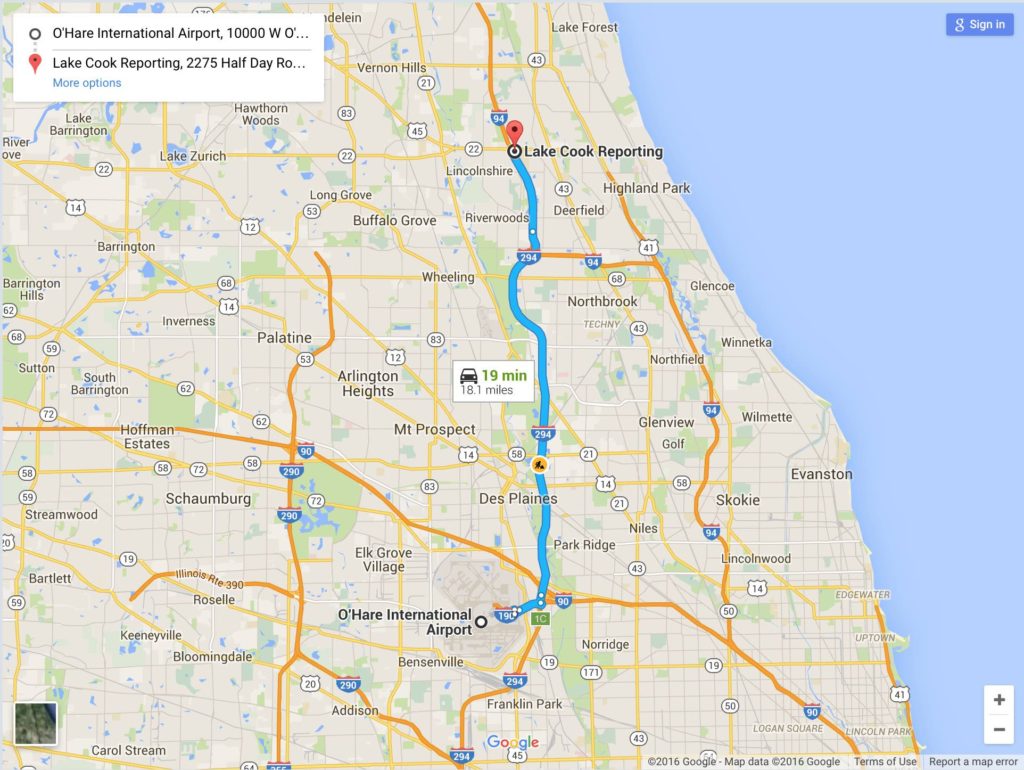 ---
Now Open: Lake Cook Reporting's Chicago Loop Office.
We've established a second location right in the heart of the Downtown Chicago Loop providing our clients with court reporting and legal videography services downtown. Use our court reporters and receive the room rental for free.
Host a deposition at our location or have us come to you! We provide services for the entire Chicago area. We offer free deposition suites in the north suburbs and Chicago Loop, or we can travel to a location of your choosing. 73 W. Monroe St #317, Chicago, IL 60603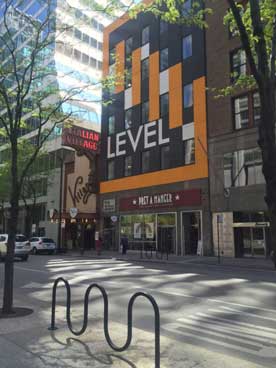 ---
Now available: a nationwide network of free deposition suites.
---
Thanks to our partnerships across the country, Lake Cook Reporting offers deposition suites across the country at no charge to you when using our court reporter. The map below shows our deposition suites and nationwide partner locations. Stay tuned, we're adding more locations all the time!
Don't see a location where you need one? Leave the search to us! View the map of our locations on Google Maps.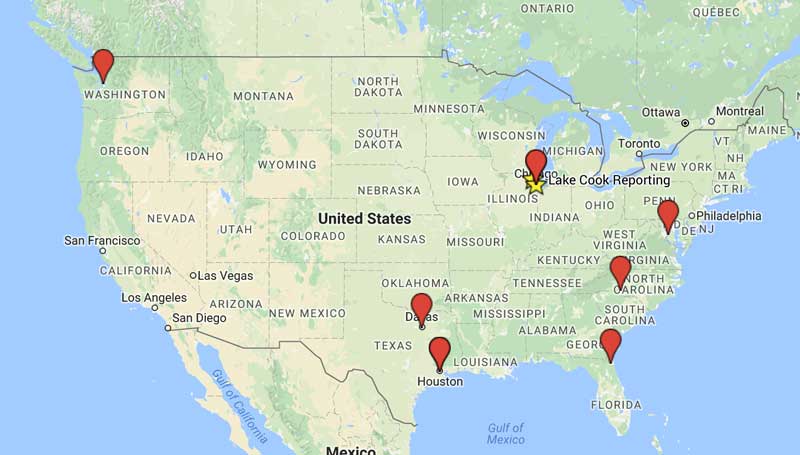 ---
Deposition conference rooms at our north suburban Bannockburn, IL location near Chicago O'Hare Airport.
---
Our conference facility in Bannockburn, Illinois, north of Deerfield and Northbrook, hosts depositions, meetings, and conferences in Lake County.
Our suites come equipped for any situation, complete with high-speed Internet, high definition video conferencing, in-house legal video recording, speaker phones, printing/faxing, etc.
Our office features four fully-equipped conference rooms for depositions, video conferences, meetings, and more. Take a PDF Tour of our Bannockburn, IL suites.
---
We Listen To You.
Over two decades serving Chicago – City, suburbs, downstate, and anywhere else.
---

Lake Cook Reporting began in 1994 as a small court reporting firm running out of a home office.
Since then, we've expanded into one of the premier stenography agencies in the area, with amenities like a multi-room conference facility, video conferencing, legal videography, realtime reporting, and more. Thanks to our amenities, the latest technology, and a highly-qualified staff, we provide everything needed for your next proceeding in our office, downtown, or anywhere else. Come to us, we'll travel to you, locally or across the country.
---

Quality reporters for any case.
Our team of over 30 experienced, certified court reporters available in our office or around the Chicago area. Our court reporting firm services Chicago and the surrounding suburbs, including all area courthouses such as Waukegan, Rolling Meadows, Skokie, and more for trials, depositions or any other legal transcription.
---
Flying in? We'll pick you up from O'Hare Airport!
We offer transport between O'Hare Airport and our office for free. Focus on your case, not on your commute. Can't travel? Try a video conference! We have thousands of compatible sites around the world.
Testimonials from our clients
---
Rated By:

Shirley Tracey - Law Offices of Janice L. Berman, P.C.

When my boss had a trial recently, she was prepared in almost every way. However, the only thing she didn't have was a court reporter and she needed it that day. She put me to the task of calling agencies trying to get a court reporter prior to the Memorial Day Weekend.

I called 26 agencies and while several called me back, they couldn't get me a reporter. I spoke with Patty at Lake Cook Reporting and she also said she would make some calls. I was shocked when she called back a while later stating that she had one. Patty went out of her way to find a court reporter for me and we were very grateful for it.

I still have my list of court reporting agencies, but I know which one I will call first from now on. They truly went out of their way for me. Thank you!
I have been trying cases for nearly 50 years and found your company to be the very best of any court reporting service I have ever used. Not only was your reporter extremely competent but you yourself (Carla Letellier) went out of the way to see that everything went smoothly.
Video Conferencing - Bannockburn, IL

Always flexible, convenient and fast to provide copy, They coordinated video depositions with witnesses here and in Florida at the same time without a hitch.
Call, Email, or Schedule With Us Today.
---
We appreciate your business. Use any of the links below to get more information or schedule services with Lake Cook Reporting.
Call us for our office, your office, or anywhere you need us.
Use this contact form for any questions or general inquiries.
Ready to book? Schedule online right from our website!