Apply for direct deposit invoice payment online below.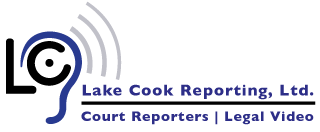 As Lake Cook Reporting continues to grow, it's important for us to accommodate the needs of our court reporters and legal videographers. We are proud to offer direct deposit invoice payment to our independent contractors.
Direct deposit enrollment negates the need to mail and deposit a physical check. With this service, we electronically submit your invoice for payment, and it's deposited into the bank account of your choosing automatically. No more waiting in the mail for checks or going to a bank to deposit a paycheck. With this service, it's fast, simple, and completely free to receive your payment.
To return to the home page, click here.
Please note the following information about direct deposit enrollment:
After enrolling in direct deposit, you will no longer receive a physical check from us. To request certain invoices be paid with a physical check, or to discontinue direct deposit, please contact our office.
Please double check all information for accuracy. While we will do everything in our power to correct any errors with direct deposit should they arise, we are not responsible for any deposit errors or financial losses due to inaccurate values entered on this site. If you wish, you can select to receive a test deposit to verify your information is correct in the form below.

All information submitted on this form is securely transmitted via HTTPS to protect your personal information and stored with bank-level encryption at our bank, BMO Harris NA. We will not transmit, store, or otherwise use this information in any other capacity except for its intended purpose.