Request ACH Checking/Routing Numbers below.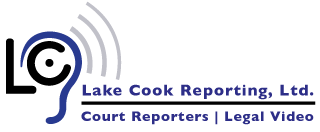 Lake Cook Reporting offers a direct deposit payment option using the Automated Clearing House (ACH) standard for payment. If you'd like to request our information, please use the form below.
To return to the home page, click here.
Please note the following information about direct deposit enrollment:
The information is authorized only for use for depositing into our account. The use of this form does NOT provide consent for any withdrawals.
Once the form is submitted, you will receive a link to download our information.
If submitting payment to us, please provide an email with the case information, payment amount, and date of payment. This ensures we match your deposit to its invoice.
Please direct any questions to us at our online contact form, or dial our office at (847) 236-0773.

All information submitted on this form is securely transmitted via HTTPS to protect your personal information and stored with bank-level encryption at our bank, BMO Harris NA. We will not transmit, store, or otherwise use this information in any other capacity except for its intended purpose.