Social Distance Depositions
In-Person Depositions & Remote Video Conference Depositions
---
Will Anyone be Attending in Person?
Social Distance Depositions
---
We are taking all recommended precautions to keep our clients safe while allowing them to continue working!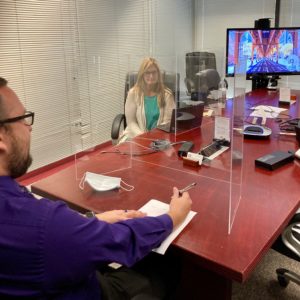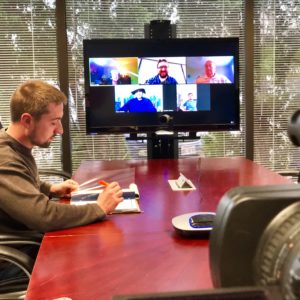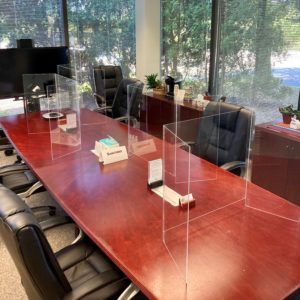 ---
Work safely & comfortably with Lake Cook Reporting
Our offices in Bannockburn and downtown Chicago are now open and prepared for your next visit.
Our team, and our building managers, have taken several important steps under CDC guidelines to ensure the safety of our clients. We have placed Plexiglass dividers in each of our conference rooms and we are offering free 1oz hand sanitizers to anyone who attends in person.
Our building managers have implemented extra precautions such as cleaning of door handles, bathrooms, and common areas such as lobbies and elevators. Furthermore, at both our suburban and loop locations, our buildings are enforcing a strict face mask policy to ensure everyone's safety.
If you do not yet feel comfortable working in an office downtown, our primary office in the suburbs has convenient parking with a side entrance away from the lobby and steps away from our suite.
If your preference is to work from home, that is our specialty. Since before the pandemic and especially now, we are the local video conference experts. We offer a variety of video conference options and our team will handle the scheduling, test calls and IT support. An IT specialist will also be present during each video conference deposition, to ensure quality.
As we navigate this evolving situation, we will continue to take all necessary steps to ensure that you our clients can continue to work and do it safely.
Come visit us in the suburbs or call us to arrange your next video conference deposition. We will all move through these challenging times together.
---
Remote Deposition Services
---
Our Services | Zoom Training Tutorials | Legal Rulings for Remote Depositions
---
Scroll through this page to check out Zoom video conferencing tutorials and to get information on remote depositions including legal rulings for remote testimony. Check out our testimonials and schedule today!
---
---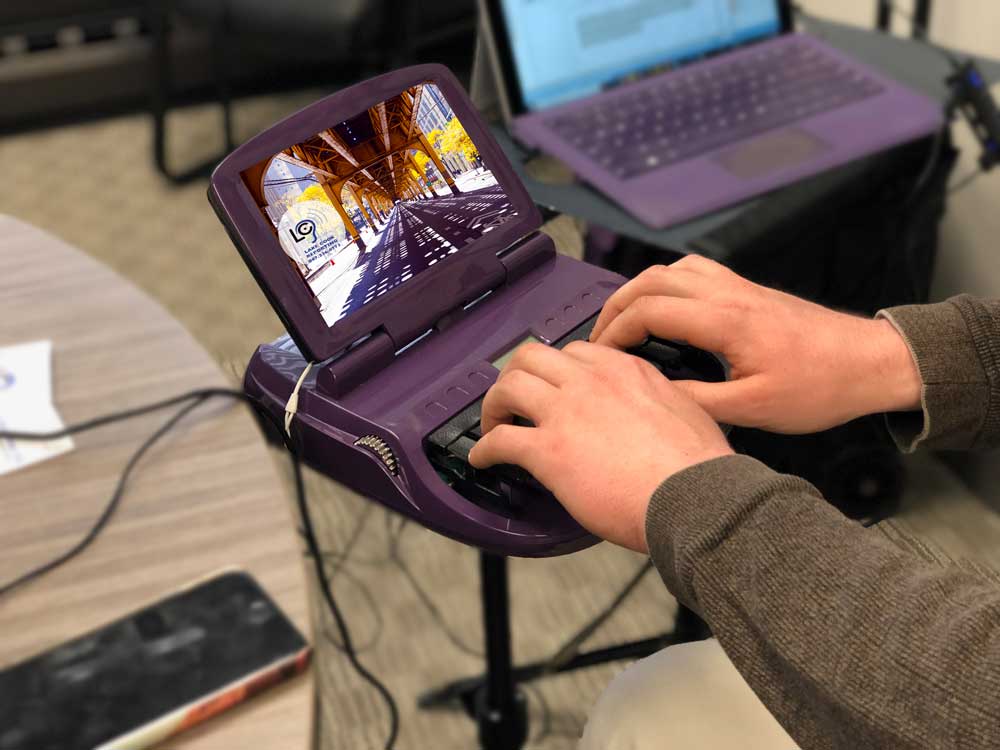 ---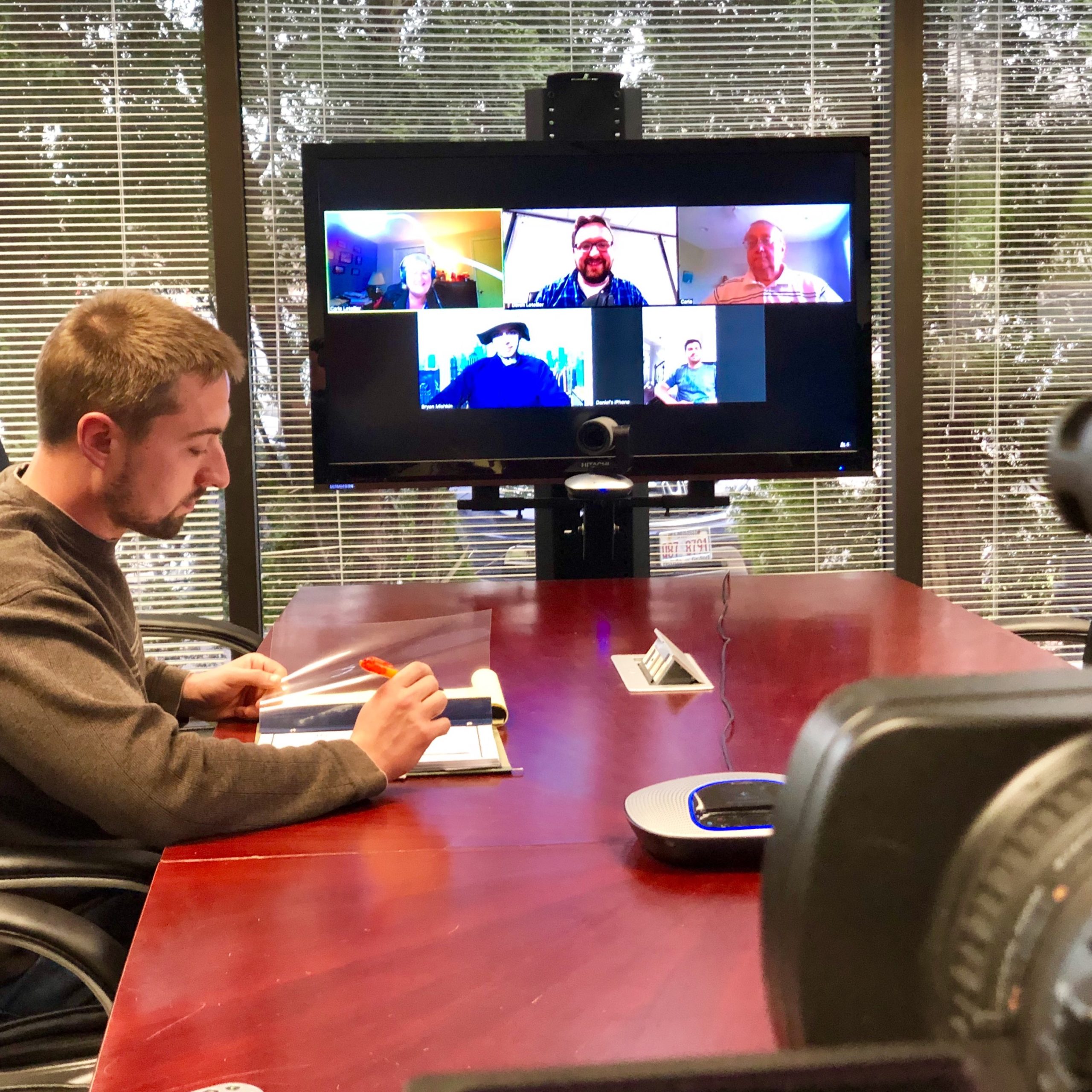 Our Remote Deposition & Remote Hearings Process:
---
Send us the deposition notice.
We generate the password encrypted video conference link and email it to each party.
We conduct test calls with each party to walk them through setting up Zoom or WebEx (Usually 5 minutes or less is all that is needed.)
For exhibits, we will contact you in advance for brief training on screen sharing and related features.
We launch the meeting 15 minutes prior to the scheduled start time. Join the deposition a few minutes prior, in case we need to adjust any settings.
Our IT support will stay in the meeting for at least 15-30 minutes to ensure optimal video/audio quality for all participants.
Then you conduct your deposition with peace of mind that you have an experienced team behind you.
---
Why choose Lake Cook Reporting for remote depositions services:
---
Direct IT support to schedule, coordinate, and run every meeting.
We handle all video conference scheduling, including test calls, so our clients do not have to.
Multiple video conference options: Zoom, WebEx, direct video conferencing.
All meetings are password encrypted for added security.
We also offer remote videotaped depositions and other recording options.
All our reporters are trained in how to conduct remote depositions. Technical proficiency, remote oaths, and asking the witness to present photo ID prior to being sworn in.
Advanced training in: screen sharing (for exhibits), breakout rooms (for private client meetings), and other helpful video conference features.
We will deliver a tablet with the meeting loaded and ready to join if you are not comfortable using your own computer.
Our team has conducted on the order of one thousand video conferences, most of them depositions, including many which were remote court proceedings.
Not tech savvy? Come to our office and use a professional video system, in a room of your own. We practice appropriate social distancing and sanitize all rooms before and after depositions/meetings.
Legal Rulings on Remote Depositions
State of Illinois

The State of Illinois decreed that "[d]uring the duration of the Gubernatorial Disaster Proclamation related to the outbreak of COVID-19, the requirement that a person must 'appear before' a Notary Public commissioned under the laws of Illinois pursuant to the Illinois Notary Act, 5 ILCS 312/6-102, is satisfied if the Notary Public performs a remote notarization via two-way audio-video communication technology, provided that the Notary Public commissioned in Illinois is physically within the State while performing the notarial act and the transaction follows the guidance posted by the Illinois Secretary of State on its website."

On April 29th, the IL Supreme Court published an order to clarify these changes in to Rule 206(h). In addition, they added two new sections to state that any time spent "addressing necessary technology issues shall not count against the time limit for the deposition" and "No recording of a remote electronic means deposition shall be made other than the recording disclosed in the notice of deposition."

Federal Ruling

Rule 30 of the Federal Rules of Civil Procedure already allowed parties to stipulate the use of a remote court reporter: "Unless the parties stipulate otherwise, a deposition must be conducted before an officer appointed or designated under Rule 28."

Court proceedings have received similar flexibility from Rule 43: "For good cause in compelling circumstances and with appropriate safeguards, the court may permit testimony in open court by contemporaneous transmission from a different location."
Illinois Supreme Court Ruling
Effective immediately and until further order of the Court, paragraph (h) of Illinois Supreme Court Rule 206 is temporarily amended as follows:
(h) Remote Electronic Means Depositions. Any party may take a deposition by telephone, videoconference, or other remote electronic means by stating in the notice the specific electronic means to be used for the deposition, subject to the right to object. For the purposes of Rule 203, Rule 205, and this rule, such a deposition is deemed taken at the place where the deponent is to answer questions. Except as otherwise provided in this paragraph (h), the rules governing the practice, procedures and use of depositions shall apply to remote electronic means depositions.
Read the Full Ruling
Remote Deposition Testimonials
---
"We have had the opportunity to work with Lake Cook Reporting for several years now and find them to be amazing.  They are extremely professional, timely and efficient.  When I call them for a deposition, everything is set up in a matter of no time, and Patty or Jennifer are always wonderful to follow up prior to the deposition to confirm and see if any further assistance is needed on their end.


Over the last few months with all the changes to the legal community brought on by the Covid-19 Pandemic, we have begun utilizing them more and more for video conference (Zoom) depositions, and each and every time, it takes only one call and within a matter of no time, Greg has everything set up and ready to go.  I am even more impressed that each time, he makes sure that contact is made with the deponent prior to the deposition to ensure everything is working properly and set to go.


Overall, if you are looking for a company that can handle all your deposition/meeting needs promptly and efficiently, and if you want wonderful customer service that is far above and beyond what other companies offer, Lake Cook Reporting is the company you are looking for.  We could not do our job without them!  They get an A+ all across the board."

Pam from Hennessy & Roach, P.C.
---
"Lake Cook Reporting did a great job coordinating and hosting our depositions.  Technical support was available for trial runs with deponents unfamiliar with videoconferencing. They also addressed technical issues and demonstrated to counsel how to publish deposition exhibits."

Gregg from Olson, Grabill & Flitcraft
---
"Lake Cook Reporting helped make what could have been a difficult task, arranging depositions via video conferencing last minute, go smoothly.  All communication with them was clear and timely and the deposition itself went as planned.  Would definitely use them for future depositions."

Lisa from Kennedy, Kennedy & Ives
---
"When COVID-19 hit, many of our depositions had to be converted to Zoom.  Lake Cook Reporting truly proved to be a godsend in our moment of crisis.  They quickly demystified the Zoom process and restored our confidence that we could produce high quality video depositions with their expert technical assistance.  They are definitely my "go to" people for videotaped Zoom depositions, regardless of location."

Todd from the Melton Law Firm, LLC
Getting started with Zoom
---
Training Materials for Attorneys, Paralegals & Witnesses
Please click the links below to learn how to get started with Zoom. We have PDFs, videos, and PowerPoint presentations for Zoom training. We cover the basics through advanced features to make you an expert in video conference depositions.
Click the links below for PDFs, Videos and PowerPoint presentations on Zoom remote depositions
---
Getting Started With Zoom Video
---
---
Using Zoom With a Telephone
---
---
Advanced Video Conference Features
If any of these features sound helpful, send us an email or check out our tutorials to learn more!
---
Screen sharing for exhibits
Electronic exhibit marking
"Breakout Rooms" for private meetings between attorneys and witnesses or clients
Virtual backgrounds
Changing video view (gallery view, speaker view, or pin video on one participant.)
Recurring meetings- multiple depositions in the same case over multiple days
---
Multiple Video Conferencing Options:
Contact Our Team
---
Contact Scheduling
Call to Schedule- (847) 236-0773
Email to Schedule- lakecook@spreporting.com
---
I.T. Support
Call I.T. Support- (847) 236-0276
Email- greg@lakecookreporting.com
---
Email Us Through Our Site
---
Contact Us Online
---
Our team will be available everyday during normal business hours. We can be reached via call, email, or contact form on our website. If we miss your call, please leave a voicemail and we will get back to you shortly!
---
---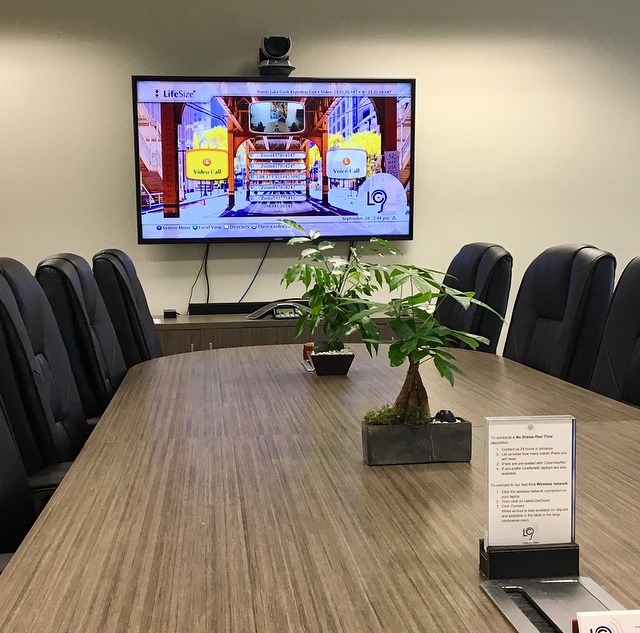 ---
Call us today to book your next remote deposition. We have the expertise to ensure your job runs smoothly. Our team will coordinate with opposing counsel and the witness to help everyone set up. Our IT support will launch each meeting 15 minutes prior to the start, then remain in the meeting to ensure the quality is sufficient.
Let our team handle all the arrangements so you can focus on your case. Check back on this page often to see the latest updates on legal rulings. We will also be posting Zoom and WebEx training materials to help educate attorneys and witnesses on using the programs. If "Shelter in Place" is extended or not, our mission to ensure our clients can continue working. Trust the local experts. Contact us today!
Call, Email, or Schedule With Us Today.
---
We appreciate your business. Use any of the links below to get more information or schedule services with Lake Cook Reporting.
Call us for our office, your office, or anywhere you need us.
Use this contact form for any questions or general inquiries.
Ready to book? Schedule online right from our website!